What with the economy being broken and credit crunching and blah blah tedium, more people are having what has annoyingly being termed a 'staycation'. We thought we'd give one a go. I've always wanted to go to St Ives and Cornwall in general. It was also my wife's birthday. I knew there was both art and pubs there, so we'd both be happy.
The trip from London to St Erth (where we were supposed to change trains) took five and a half hours. Which is a bloody long time for a train. It's still better than a motorway though ,as you get to see lots of places and lovely countryside and can go to the toilet without having to stop. Bring a book. And a laptop with movies. And an mp3 player.
I thought that St Erth might be a large interchange station but it wasn't. It was tiny. What was also tiny was the single carriage train that arrived to take us to St Ives. Quaint or cute would be apt words here. We all boarded and acted like excited school kids on a trip to the seaside in Victorian Britain. We also got to see the lovely Carbis Bay and some other appealing places en route.
Finally, after a quarter of an hour, our quirky little train arrived.
When you first get off the train and walk down the road a little bit, you get your first proper look at St Ives. And my word, is it pretty. Although it started as a genuine fishing village, it could easily have been designed just to look picturesque and appeal to stupid gawking tourists from places like London. Which is good for St Ives as our fishing industry has been screwed.
As we walked down the high street on the way to the waterfront and our apartment, we gawked at all the art galleries and cafes and restaurants. It seemed like an ideal place to chill out for a week. The two busiest streets are the waterfront, called the Wharf Road, and a cobbled street that runs parallel to this just a bit inland, called Fore street. Which happily was where we were staying. Here's a handy map so I don't have to get all descriptive.
We found our apartment, which I was happy to note was practically opposite two pubs. We walked in and got a glimpse of the view. We were supposed to have views of the bay but I was not expecting it to be so bloody fantastic. Have an envious look:
It was a glorious sunny day and we thought we'd celebrate our arrival with a drink. We got to the waterfront and found a nice bar called Hub and because we were in the West Country opted for cider. A pint of Rattlesnake cider each to be precise. This proved such a good idea, we had another. I wouldn't recommend this to anyone under 6 foot 1 and under 185 pounds who doesn't drink too much already. Or to put it another way, I felt the effects immediately but was ok. My wife felt the effects slightly more.
We soon switched to lager and G&Ts and decided we should get some food. We were tired and weren't feeling that adventurous so went went to a place that looks like the sort of trendyish bar that can be found everywhere and was possibly part of a chain. It was called the Firehouse Bar and Grill. Surprisingly, my pizza was great and Nim's seafood linguine was superb. Truly superb. It could have been because we were hungry and a bit drunk but who cares.
The next day we awoke refreshed and invigorated. The view was fantastic but unfortunately the weather had turned cold and grey and windy. Here is a warning to everyone: drizzle and wind are the default settings for Cornish weather. They might lay on some sun when you arrive but then they switch back to grey once you are settled in. No matter. We are hardy city folk and could take whatever was thrown at us.
As it was our first day we followed the local law and had a pasty for breakfast. I have to say I was disappointed with my first true Cornish pasty. It was exactly the same as the West Cornish pasty shops you get in major train stations in London. Fair play to the West Cornish pasty shops as they have obviously brought the genuine article to London, but it then means you have no real baked treats to look forward to when you get to the West Country itself. Which is a shame.  There now follows a brief description of places we went to in case you fancy going there yourself.
Things to do and see in St Ives.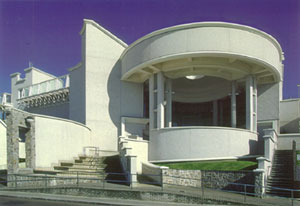 Following the second law of St Ives, we went to Tate gallery. It's pretty cool to have your own Tate. This one was in a really nice building but I was mildly miffed by the fact that I had to pay. Cornish people got in for free (although this may have been a promotion). Yet Cornish people can come to London and see our two Tates, which are much bigger and better, for free.  Anyway, the Tate was good and full of art. It really is a must see if you are in St Ives, even if you're a nasty non-Cornwallian. It's a great building but obviously not as cool as Tate Modern.
As we were on a cultural roll, we then visited the Hepworth museum which comprised of a museum, (hence the moniker,) and a beautiful garden. And they were beautiful even though we were still experiencing the aforementioned shit weather.  Barbara Hepworth was a legendary sculptress that even I had heard of. It was only after the exhibition that I realised I had seen two of her pieces of already – one on John Lewis in London, and the other outside the UN building in New York.
In fact, the gardens were so pretty Nim went back with a camera a few days later as the sun briefly appeared. Here's the result:
Apart from through shop windows, these were the only galleries we actually visited. All the others were on the rather predictable theme of 'Paintings of  St Ives'. Which some might argue as not being that surprising but I personally think it is a shame. Lots of artists have been attracted to St Ives over the years and artist colonies have formed there. These included people like Hepworth and Ben Nicholson and Naum Gabo. And lots of others I have barely heard of that where very successful. They found St Ives to be a place of inspiration but their work wasn't of St Ives. This seems to have changed with the vast majority of paintings you'll see being various different ways of representing the bay. Ad nauseam. Maybe I'm being unfair as we just looked through the windows.
Other things worth seeing or doing in the immediate hood:
Climb up the hill at the end of the peninsula between the main harbour and Porthmeor beach. Check out the views and take thousands of similar photos.
Walk down to Porthmeor beach and have a delightful walk while staring at surfers. Or you could even learn to surf here, it's the best beach. It might be chilly though – you are still in Blighty after all.
Behind Porthmeor beach is the local cemetary which is pretty fascinating in a morbid and occasionally touching way. There are lots of moving memorials to locals lost at sea. All on a hill overlooking the ocean.
Just wander around generally going 'Ohh' and 'ahh' and generally annoy the locals by walking slowly and blocking the roads. That's what a lot of tourists seemed to be doing anyway. Why not join them?
Or alternatively, once you've done the above, you could go on a lovely day trip.
There are two trips that seem popular, so like sheep we did them as well. You may have noticed if you read this website regularly that there has been the odd Cornish day-trip and restaurant review recently. It was all a cunning plan for this guide. Otherwise this entry would be truly epic. Now I can just link. I'm not just an incredibly handsome face you know.
First recommended trip:
The Eden Project near St Austell. The possible future of mankind! Massive bio-domes full of jungles and rare plants. Plus restaurants…
Second recommended trip:
Land's End. The end of Britain! Spectacular cliffs and ocean views. If you squint really hard you can see America.
If you can't be bothered to leave the warm drizzly heart of St Ives, then you can spend your time eating and drinking. Which is pretty awesome too.
PUBS
We're not alcoholics and were only there for a limited time. Consequently, we only went to four pubs regularly.
The Golden Lion – seemed to be the pub with the most locals in it. All of whom were very friendly. There's a room out the back with a pool table in as well, which is a bonus.
The Castle Inn and the Union Inn. These two pubs were practically opposite the entrance to our apartment. They are about 5 seconds walk from each other and both were great pubs. We saw live music in one and attended a real ale festival in another. I just can't remember which one was which.
The Sloop. This pub is on the waterfront and consequently was quite busy. It has low ceilings, cute little booths, and a good fish pie.
We liked all these pubs but probably spent the most time in the Castle and Union Inns. I also chatted to both managers and they were extremely friendly.
RESTAURANTS
We went to a lot of these. You have to as a human or you die. There are some superb restaurants in St Ives and rather predictably we ate a shit-load of seafood. They can be very pricey though and you need to book ahead. If it is July or August, I suspect you should book about a year in advance. Here are the favourites, which I have already written about:
The Loft. Very nice place. Also has a roof terrace if you happen to be in St Ives on one of its rare nice days.
The Saltwater Cafe. Possibly our favourite place. Very, very small with a family feel. Book now for 2015!
The Mermaid. Charming little place with eclectic stuff all over the walls.
So there you. A St Ives guide in a finely crafted nutshell. I hope you find it useful if you go there. As staycations go, it is a great place. I would imagine it might be a bit of a nightmare mid-summer but it is ever so quaint. Buy an umbrella and give it a visit.