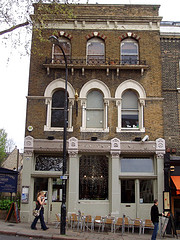 This pub is just down the hill from Hampstead Tube. Or just up the hill from Belsize Park tube. Take your pick. I think it is slightly nearer Hampstead though and you can walk down the hill rather than up. Which is a plus. Hampstead is always nice too and you might see a celeb.
This is a nice enough pub and one of the few places I regularly visit in Hampstead. The others are the Hollybush (which I will review one day) and the Flask. If it's a nice day, which is rare is this soggy country, there are a couple of pleasant tables out front for superb people watching. There's also a smallish beer garden out back which tends to be full of smokers. The main room is slightly odd in that it is split into two areas. The bar faces the window in a D shape. Behind the D is a seating area. Both areas have a slightly different feel to them but both are pleasant.
The main draw for me are the friendly staff and the food. Plus there's a bus from in front of my house that stops in front of the pub 5 minutes later, but that might not be the case with everyone.
We normally go there on a Monday or Tuesday. For pizza. The pub has decided to not bother with a lot of different gastropub foodstuffs. They do primarily wraps and awesome pizzas. The wraps may be awesome too but I've never had one. On a Monday and Tuesday they do a two for one pizza deal, so you can get one of these bad boys for £5. Which is a bargain. The £20 I always subsequently spend on beer balances things out I guess.
Even without the pizzas, if you are in the neighbourhood, it's a nice stop off. They have great music (Hendrix, Zeppelin), good beers (try the Sagres lager), friendly staff, and a unique chandelier made out of kitchenware. Enjoy.
(There's also a Giraffe restaurant next door that does half price cocktails from 5-7pm Sunday to Thursday as well, if you want to start early. Just FYI.)