The pope is finally here! God bless us every one! As you may have guessed from reading this site, I'm not particularly religious. I have nothing against those who are (although I think you're wrong), I just don't like it when I have to pay for other's beliefs (As I have written elsewhere.). Officially the pope's visit is a state visit but this is hardly like a visit from the a foreign president. The Vatican is a city state and to be a citizen you have to work for the church. 74% of the citizenship is clergy, the rest are Swiss guards and so on. It's not a normal country we can hopefully increase trade with or anything beneficial like that.
But he's here, I've paid and it's done. Traffic disruptions aside, why should I care anymore? Once he's gone past on his popemobile, and things return to normal, the impact on me will be none.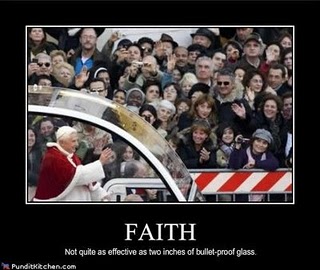 All that will be left will be my memory of finding some of the comments and opinions both humerous and worrying. This is a man who speaks to third world countries and tells them using condoms is a sin. Mind you, one of his minions thought Britain was a third world country, so he must be pleased that we have the highest rate of teen pregnancy in Europe. It's a shame most aren't married, but it's a start. This and all the kid-fiddling that has been covered up are the worrying bits.
The funnier aspects of his pronunciations are his alarm over things like the marginalisation of religion. People still believe in all sorts of ridiculous things – healing crystals, ghosts, moon landing conspiracies, mediums, homeopathy, UFOs, alien abduction, psychics, the loch ness monster, and tons more. There are also lots more religions that are relatively new to the West. What he means is the reduction in his particular branch of those who worship the one true god. The same god that's worshipped by Jews, Protestants, Muslims, Mormons, Jehovah's Witnesses and the rest but in slightly different ways.
He has specifically mentioned those who have voiced opinions about not celebrating Christian holidays. 'I cannot but voice my concern at the increasing marginalisation of religion, particularly of Christianity,' he has said. (http://www.metro.co.uk/news/841305-pope-fears-religion-is-being-marginalised). He skirts around the fact that this has largely been because people don't want to offend other religions, as opposed to an increase in atheism. I have to agree with him on this though. People should be able to celebrate what they want. I love Santa and the Easter Bunny. It just feels a bit weird to have the Church speak against suppressing other religions.
I think it is too late. When most people think of Christmas, they think of this:
Or in my case this: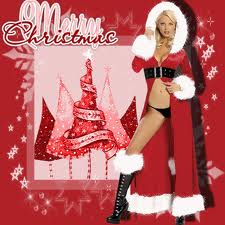 Now let me just state that I have nothing against religion. I have lived in a lot of places and have numerous friends from various faiths. We all respect each other's views. To some extent anyway. I just don't like it when religions behave in dumb ways or say stupid things and I consequently read about it. I like living in multi-cultural societies just as long as no one clings to ideas that are massively outdated and are actually harmful.
Basically my point is this Mr Pope your worshipfulness. Say what you like about God and angels and harps and demons and pitchforks and singed pubic hair and so on – that's fine with me. Tell a country that is in the middle of an AIDS epidemic not to wear condoms, then I am forced to disagree. Converting people and then persuading them to breed is not the answer any more. Just be sensible. I know that the majority of Catholics agree with me, they've said so in the papers and on forums. Use the internet and advertising and viral videos to reach new converts – they are much more effective and millions needn't catch STDs.
As for Christmas and Easter holidays. I'm afraid the pagans have taken them back.