Apologies for not having written much of late but work was sparse so Mrs Word of Ward and I went a-wondering. I won't gloat about the places we went (although I might later) as they were mostly sunny and warm. One place that wasn't either of these, but was still pretty great, was Conwy Castle in North Wales. If you like castles or spectacular decaying edifices, I highly recommend it. It was actually pretty fun to go on a bleak mid-week afternoon in January as well, as we pretty much had the place to ourselves.
Conwy castle was built the late 13th century. As in just before 1300ish, for King Edward 1st. Or King Edward as he was known back then. It was a major base for King Ed as he was conquering the Welsh – although it is probably best not mentioning that when you visit as they have never quite forgiven us horrible English types.
Unlike a lot of tourist attraction castles, the interior doesn't have too much crap in it like signs or gift shops or anything. The mood is pretty unspoilt and you are allowed to wander around and climb things. Here is another picture but this time of the interior:
Nice eh? You can almost imagine all the lords and ladies and knights and dragons and so on. Here is another that was taken from what would have been a basement. Note that in the distance of both of these pictures you can see Conwy's turrets – more on that after the picture.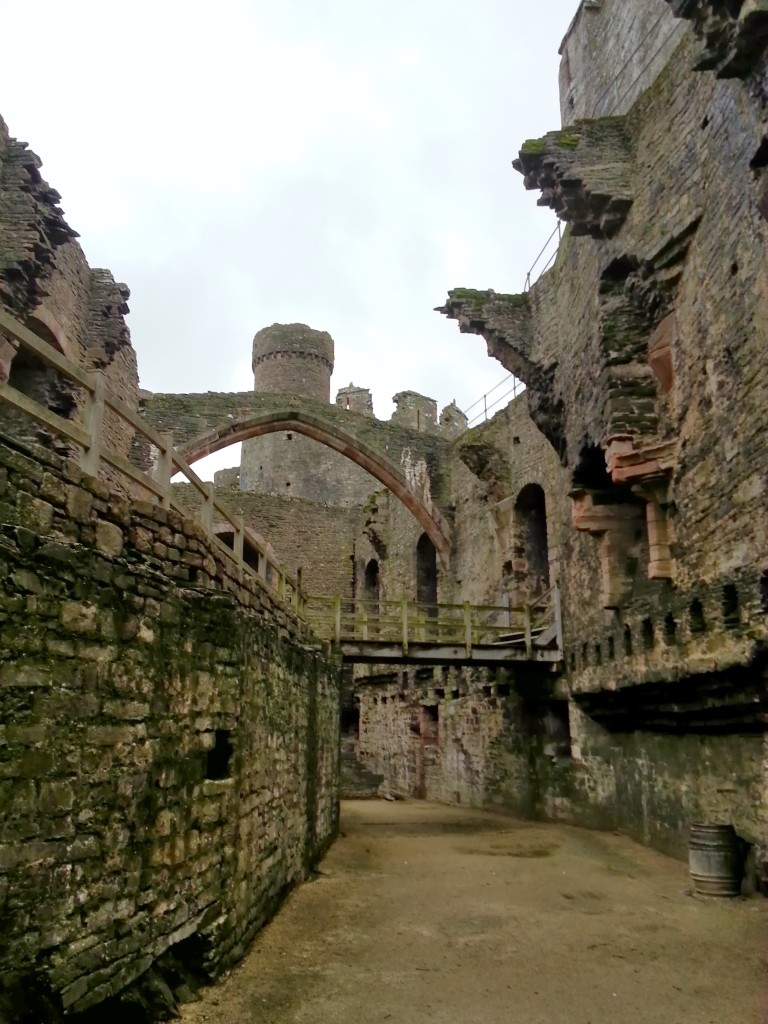 If you don't mind twisty steep dark staircases, then I highly recommend you climb one of the turrets. The view is bloody spectacular. Here is a both a superb vista and a brilliant example of modern phone's ability to do a panorama shot.
Now, here is a shaky video on a windy day from the top, which may or may not load properly.
I said end it all but here are a couple of bonus pictures as you have been so good. I mentioned how there wasn't too much crap to distract you from the awesomeness of Conwy castle but there are a couple of random touches that I thoroughly enjoyed. I think they 're there to give kiddywinks something to find. There are a few of these. My favourites were:
and
So you can see the kid friendly, slightly spooky vibe they are going for. If you get the chance, I highly recommend Conwy castle. As you can see it's a good balance of castle, decay, random sights, great views, and a general Game of Thrones type vibe.
Thanks to http://cadw.wales.gov.uk/daysout/conwycastle/?lang=en for the picture. You can also get more info there.