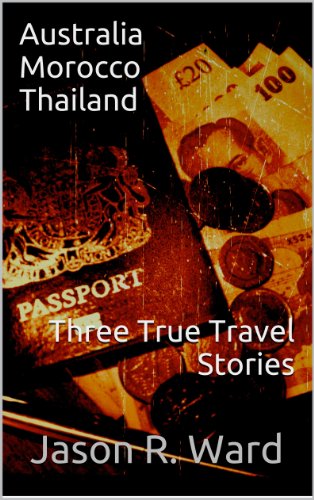 I haven't done this for a while, so it is time to publicise one of my incredibly cheap books. "Australia, Morocco, and Thailand. Three True Travel Stories
" is a collection that costs a pittance and seems to entertain. I usually give the blurb I wrote but instead I thought it would be nice to include a couple of reviews written on the US Amazon website. I promise I don't know them. They are 'Top 1000 Reviewers' and I should be so lucky to know such important people.
A review:
"Some young folks hit the backpacker trail to gain self-enlightenment and seek spiritual awareness and save the world. With admirable honesty, the author admits that (at twenty-one) he was looking for fun, with the emphasis on avoiding boredom, staying drunk, and getting laid. Not surprisingly, he had more luck in the first two areas than in the third.
Don't make the mistake of dismissing this as a stoned-and-stupid Spring Break saga. This man is a professional writer and a damned good one, and he knows how to tell a story. He also has a keen eye for the absurd, even when he's looking in the mirror. The first (and longest) section recounts an adventure in Australia when he and three friends try to earn traveling money picking pears. Unfortunately, the beautiful farm of his imagination (think A TRIP TO BOUNTIFUL) turns out to be an "outback gulag" and the friendly, generous rural inhabitants consist of a hostile, dishonest farm owner and a pair of hard-working (and hard-drinking) Albanians.
The second story involves getting stranded in the Atlas Mountains during rainy season and taking a hair-raising ride back to civilization (or closer, anyway) in a van packed with Berber tribesmen. Why are the windows covered? "Il est preferable de ne pas regarder." (It's better not to look.) The third finds our hero living in Bangkok with his American-educated Thai fiancee Nim where he experiences a strange (typically Thai) overthrow of the government. The Prime Minister is unpopular, so the military steps in, sends the police home, the King okays the deal, and Happy Hour goes on. (That was in 2006 and the former PM is still in exile, but his sister is now PM!)
My only complaint about the book is that it is far too short and I wasn't ready for it to end."
Another glowing review:
"'Ladyboys from the Mambo cabaret strode confidently down the cracked pavement on ridiculously high heels. Further down the road, another elephant mingled with the traffic. "Everything looks pretty damn normal," Chris said.' Funny stuff from 3 "paid holidays" focusing on the highlights (or lowlights depending on one's perspective) of the author's encounter with a giant Australian spider covering his chest nipple to nipple, riding along with a vanload of Moroccans as it teeters on the edge of a waterlogged roadway, or surviving what is (hopefully) a bloodless coup in Thailand while being serenaded at a downtown bar. So, all I have to say is what three destinations are we headed off to next? Very entertaining book!"
You can buy Australia, Morocco, and Thailand. Three True Travel Stories
here and I'd be ever so grateful: