Let me introduce myself – my name is Ward and this is my site. I am a professional journalist, fiction writer and TV broadcaster. Although most of my writing is in decaying paper magazines, I dream of living fully in the digital world and a website seemed a good place to start. I assume it will one day lead to millions and a life of luxury in a shiny house.
To contact me with tons of spam or offers of money or publishing deals: thewordofward@gmail.com
Check out my other awesome site that looks at all things Science Fiction: www.scifiward.com
I also have a Blogspot website about all my writing which says something similar to everything above, but with pictures. http://jasonwardauthor.blogspot.com/
Now please buy a book. They are two short story collections, one travel related and one scifi, and a tale (Cooperworld) which is either a short novella or a long short story. They are well reviewed and cheap! I need to eat until the above lifestyle kicks in, so it would be great if you could help out.
This is a 17,000 word short story. Which is quite a long short story, I'll grant you.
Here is the blurb:
In the near future, AI research is strictly controlled by paranoid governments. When a renowned Artificial Intelligence expert illegally decides to create digital life in an simulated universe, he doesn't at first realise the implications of what he has done. Implications not just for him, but for everyone.
In this short story, journalist and writer Jason R. Ward has a light-hearted but fairly philosophical look at what constitutes consciousness and has a good hard look at how we perceive reality.
For US customers:

For UK customers:

Travel Stories: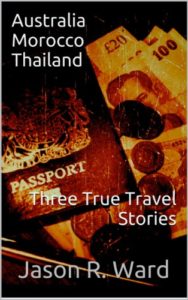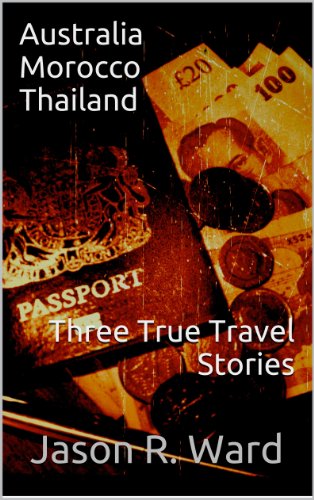 The travel stories are in an exciting collection called 'Australia, Morocco, and Thailand. Three True Travel Stories'. Not the catchiest of titles, I'll admit, but I want people to know what they're getting. Three true travel stories where yours truly was in peril. In three different places. Here's the blurb:
Jason Ward tells three true stories of fairly perilous travel.
While backpacking in his early twenties, he decides to give fruit picking a go. Even without the spiders, snakes, and a plague of locusts, things turn out pretty badly.
A trip into the Atlas Mountains with his girlfriend turns out less than romantic when flash floods threaten to wipe out the town. The only escape option is a van full of Berber tribesmen and a waterlogged road on the edge of a cliff.
After moving to the peaceful paradise of Thailand, Ward goes to a local pub near his Bangkok flat. That evening there is a military coup. In Bangkok. So why can't he see anything?
These stories are filled with humour and dollops of fear. Recommended for those who enjoy travel stories or just like reading about someone being mildly terrified in foreign countries.
If you like travel stories please give them a go. Also, if you like them, please leave a review, they really help and I need to eat. If you don't like them, then move along, nothing to see here.
For UK customers:

For our American cousins:

The book costs a pittance. Which is a bargain!
Science fiction short stories: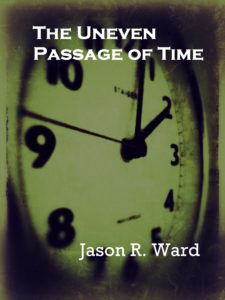 Time, famously, is relative. In this trio of short stories journalist and fiction writer Jason R. Ward looks at three individuals and their unorthodox journeys through time. These entertaining tales blend the themes of psychology and perception with classic science fiction.
Stephen Hawking once sent out dinner invitations to all future time travellers. No one turned up. But what if one had? In 'A Date to Remember' a young physicist is convinced he has worked out the secret to building a time travel device. Lacking the resources to construct the machine he sets a time and date for a meeting with his future self.
It is a truism that people remember the big events in life and forget the repetitive. For most people, their year skips by unnoticed, punctuated by birthdays, world events, big personal milestones or traumatic events. As you age life seems to speed up and you find that the years seem to fly past. 'As Time Goes By' is the story of Frank Gilbert who is experiencing this to the extreme. His time seems to be accelerating at an abnormal rate. Years of his repetitive life seem to go by in days. Can he break the cycle in time?
The final and longest short story is 'The Man Who Loved Statues'. Captain Michael Pike is a man who has taken a bit of hammering in life. With nothing much to live for he volunteers for an experiment that is going to attempt to alter his passage through time and put him in stasis. Things don't go quite according to plan.
For the US:
http://www.amazon.com/Uneven-Passage-Time-ebook/dp/B006MHSWI2/ref=sr_1_1?ie=UTF8&qid=1324264158&sr=8-1
For the UK:
http://www.amazon.co.uk/Uneven-Passage-Time-ebook/dp/B006MHSWI2/ref=sr_1_1?ie=UTF8&qid=1324258518&sr=8-1
Check out my author website: