This is primarily about the LLSB, Long Live Southbank campaign but it also rambles charmingly on about London in general. So if you aren't a Londoner but one day hope to visit, consider this an incentive. Alternatively, if you are into skateboarding, check out the video at the end.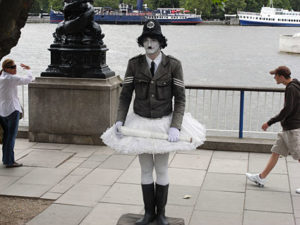 One of the joys of being a Londoner is just the sheer amount of stuff that is going on all the time. Truly if you are bored of London, you are a boring bastard indeed. There is not just so much going on that you feel guilty every time you browse an issue of Time Out, there is also a ridiculous variety of things all around. I love all the book readings by famous authors, comedy nights, world famous bands playing live, the greatest selection of theatres on the planet, the markets, the pubs, parks, and random events like boat races/fireworks/pageants/random art happenings/street performances, etc. There are also things I don't really give a shit about – opera, human statues, invigorating swims outside in the winter, performance art, vegetarian restaurants, chessboxing, religion, skateboarding, and so on.
But just because I don't give a shit about these latter examples doesn't mean I don't want them around. They add something to the city.
For example, a place I love is the Southbank. This stretch on the south side of the Thames holds pretty much everything I have mentioned in both lists (not sure about chessboxing but I wouldn't be surprised). It has Shakespeare's Globe theatre (which must be experienced), the British Film Institute, the London Eye, Tate Modern, second hand books stalls, bars, restaurants, theatres and art galleries. It even has a beach!
It has also a place for skateboarders which has been there since I was a kid. As I said, I don't really care much about skateboarding but the Southbank skateboard park is something I would be very sad to see disappear. It adds to London's diversity. It seems a fun place for all the young youth-types to hang around. It's always a laugh watching someone trying to show off and falling flat on their face. Besides, the area has been dedicated to the skateboarders for 40 years. Everyone likes it, including tourists.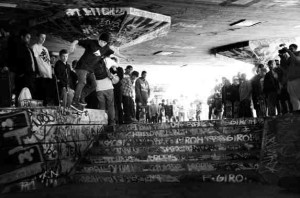 The problem, no matter what the council's argument claims to be, is that the skateboarders don't make any money for Lambeth whereas a Starbucks/Wagamamas/Nandos/whatever will.
If the Southbank skateboard park is shut and replaced with chain shops/restaurants, it can only be a bad thing for a city trying to stay one of the top places for art,creativity, and diversity. I think it will be a massive shame to lose this. So do lots of others. Consequently, the LLSB or Long Live Southbank was set up.
I wrote most of this because they have now made a short video that they want to try and go viral. It's actually really interesting, even if you aren't into skateboarding. (Their website is here and is worth a look: http://www.llsb.com/)
At least watch the video and make your mind up. I learned some new things.