As part of my wife's 30th birthday bonanza, I promised her some of the finest Chinese food outside of Asia. She has a lot of Chinese blood coursing through her veins so I knew I had to pick something good. Hakkasan is definitely known for being one of the best. It even has a Michelin star. I'd been wanting to eat here for ages, so this seemed like a good excuse.
The entrance is down a slightly grotty backstreet/alley just off Tottenham Court that is full of slightly dingy late night bars and illegal drinking establishments. Fortunately, I've been drinking in these establishments for almost two decades, so had no problem finding it.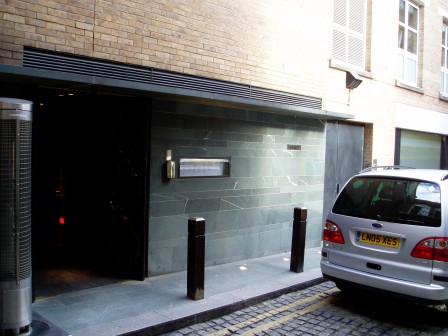 The entrance is pretty muted.  As you can see. There was a lady with a clipboard and a large man in a suit at the entrance. It felt like we were entering a club. She checked we had reservations and we were shown down the stairs. There were several smiley staff waiting to take our coats. Then another lady took us to the bar. The bar is pretty cool – long, dark, nice lighting, a bit futuristic mixed with the Orient. It is like a swanky place in Hong Kong or Blade Runner. We had a couple of cocktails which were £10 each (plus 13% service charge). A bit pricey but they were incredible and unique. Our cocktails were really different but both were some of the finest we had ever had. We were then shown to our seats.
The restaurant is divided into various rooms separated by woodwork lattices. The table have lamps hanging down low over the tables making it feel more intimate. There was staff everywhere, which made me a bit worried that they might be a bit overzealous but actually they got it just right. I hate when you are in a swanky place and feel like the staff are staring at you for the whole meal in case you might need something, it's very off-putting. Anyway, they seemed ubiquitous but unobtrusive. I did feel it a bit unnecessary that there was a girl whose sole job seemed to just be opening the door to the bogs but maybe I'm being picky.
So, the food. I spent 21 years of my life in Hong Kong and I love dimsum. We ordered the dimsum platter to start and it was awesome. Truly, truly awesome! Each piece was bigger than normal dimsum but they were so well prepared and cooked, I was blown away.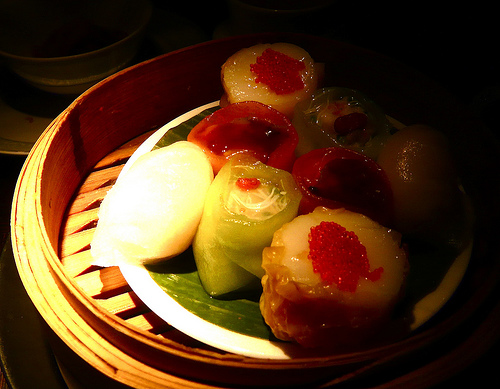 For our mains Nim had the Sho Chu Atlantic stir fried scallops which were huge and tasty and came in a really nice sauce with mushrooms and onions. I had the unbelievably incredible Spicy Mongolian venison. Which was one of the best things I have ever eaten. I challenge you to find a better Mongolian venison – even in Mongolia. We also had jasmine rice and another couple of cocktails. Plus some morning glory which was fantastic but at £9.50 was £9 more than I used to pay when I lived in Bangkok. Which is not surprising I guess.
By this point we were stuffed to the gills so ended the meal with a couple of lattes.
Here's how the bill panned out:
Dim sum platter – £11.50
Jasmine rice – £2.50
Morning glory – £9.50
Mongolian venison – £23
Sho chu scallops – £26
2 Caffe lattes – £6
4 cocktails – £40
Total: £118.50
With service charge: £133.9
Given that this is a top class restaurant with a Michelin star, superb food (really superb), impeccable service, and an amazing decor, the bill seemed about right.
I would highly recommend this place. I will be going back once my bank account recovers. It shows you just how good oriental food can be. And I have spent over half my life in the orient. Save up and go!