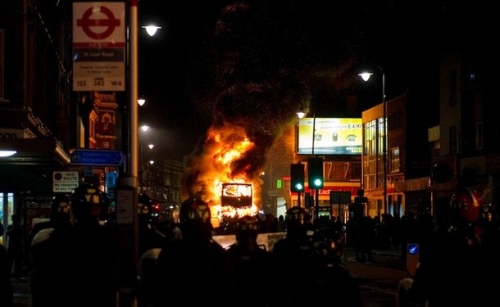 A load of twats in hats tried to burn London down. And because London leads the way, there were then riots all over England. It was like the film Rise of the Planet of the Apes out there – except that the apes in the movie are literate and you can understand their motives and empathize.
It seems to have calmed down now and people are analysing the aftermath. Londoners are a fairly resilient group and it's business as normal.
I'm a bit annoyed with all this rioting shenanigans. They trashed a sushi place and a Dominos about 10 minutes from my flat. Some are saying that it is because they are poor and feeling frustrated and boo and hoo. In case you haven't been to England, please don't think that our poor are all under 25 and in hoods. Our poor actually come from all walks of life. Some are even old and quite a few are now homeless as their houses have been burnt down. The poor desperado looters are apparently angry at a consumer society where others get things that they don't. Curiously though, these tracksuit wearing thugs used mobile phones to organise this attack which has largely specialised in looting sports clothing shops and mobile phone stores. Some even arrived in cars to maximise their looting efficiency and correct this imbalance.
This is just opportunism and fun for an underclass in society that doesn't have much future, knows there will be no real comeback, and doesn't really care about others. The people I feel sorry for most are those who are equally broke but have just lost their shops and homes. Because the looters don't travel. They just trash their own underprivileged neighborhoods. It could be argued that the looters are so distanced from society and a sense of belonging that they no longer care. The fact that a lot of the crime was caused by local gangs somewhat negates that separation from their neighborhoods.
There have also been some tragic deaths because of this. A guy called Richard Bowes from Ealing died last night after he remonstrated with looters near his house on Monday. He was beaten so badly that it killed him. Also, in Birmingham three guys were protecting their business when a group of the poor disaffected types, who had a car, drove into them and killed them. Quite frankly, I'm surprised there wasn't more loss of life but these tales are tragic enough.
Someone sent me a link to a Telegraph article which pointed out that this lack of ethics and morality are prevalent on high and well as down low. MPs are lamenting the poor morals of the young and broke and some are getting positively indignant about the lowlifes. Their hypocrisy is pointed out as several of these MPs were found guilty of claiming thousands in expenses. This is ethically on par if you are just talking about theft and barefaced greed. The difference is that after the expenses scandal, a lot of MPs paid the money back. An even bigger difference is that genuinely poor working people didn't have their houses burnt down or were killed because of the greed.
People are worried that this sort of thing might affect the Olympics. It won't. There are shopping malls in that part of town and these 'disaffected' dicks aren't protesting or making a statement in order to get heard. They only attack shops.
What has been touching about all this are people getting together to clean things up. Groups formed on twitter which led to armies of people armed with brooms sweeping up all the smashed glass and discarded playstation boxes. That Malaysian student who got mugged by hoodies pretending to help has had a mini charity set up so that his parents can fly over from Malaysia to visit him in hospital. My local Budgens has pledged to feed the 100 or so people from Tottenham who were made homeless. These acts of kindness show that the English aren't all bad, no matter what the rest of the world may be thinking given the images they have been receiving.
It's all pretty ugly and unpleasant no matter what you think of the motives behind it. Are they mindless, looting, murdering pricks or has society let these morally void cherubs down? At least the press and bloggers and news sites can slag them off. The chances of anyone involved sitting down and reading anything are nil. I saw a funny tweet from Sky News welcoming all their 'new viewers in Tottenham watching themselves loot on their new Hi-def TVs'.
Looting is pretty unpleasant anywhere as it tends to punish local communities of equally poor people who are just trying to get ahead in life. The only people who have benefited from this are the looters who got away with it and those involved in the phone hacking scandal and are no longer in the media's spotlight. A sad consequence of this switch of focus is that other news is being pushed back a few pages. Syria is getting increasingly violent and in Somalia a human tragedy on a colossal scale continues to unfold. Kind of puts things in perspective a bit.