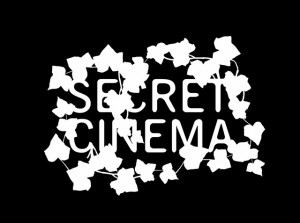 Last week myself and Mrs wordofward went to the mysterious sounding 'Secret Cinema'. We were invited by our hip and trendy friends who took us to Shunt. It's not just a cinema event, it is primarily an art event happening experience thing. Which are always fun.
We were told to wait outside Wapping tube stop dressed as if it were the 40s. In case you don't know London, Wapping is a bit of a shithole. It's lucky that it wasn't the forties as the whole area was pretty much wiped out in world war two and rebuilt in the architectural style known as 'characterless'. In case the gathered crowds got too rowdy, a few policemen turned up in 1940s police outfits. One even had a moustache which is as authentic as you can get.
We arrived and lurked around the pavement with lots of other people dressed vaguely 40s-ish (although some were distinctly late 1930s, the amateurs). At precisely 6:30 there was suddenly loud chanting approaching us from a side street. A load of people in period clothing arrived chanting 'Freedom to create!' and carried banners saying the same. People in the crowd joined in this plea to be free to create. This confused me a bit because I thought we were free to create in this country. Unless I missed a meeting or something. I'm pretty sure there are art galleries everywhere and London is one of the art and culture centres of the world. But hey, what do I know? Let us be free to create you fascists! Yeah!
We followed these chanters to a large warehouse known as Tobacco dock. Here we joined a huge long queue. We were entertained throughout though as a load of actors in character wandered around chatting with us. A nice lady asked us our names to check if we were on the list. We weren't just on the list, we were on the elite list. Our friends had a display/installation at the event so we were suddenly in a queue of 10 people as opposed to 900. Consequently we were soon in.
The interior was basically like a large shopping mall with lots of open areas. Instead of shops there were art things and bars. The first room we came across was a bar which sold the classy Stella Artois Black beer. There was also a fellow on the piano and a lady who sang and played the kazoo. We grabbed a couple of pints and headed for culture.
All around us were gents in suits, hats, and moustaches with dames in sexy dresses and those old fashioned stockings with the line up the back of the leg. Which look great. We decided to check out some of the installations and as always with these things, they were a hit and miss affair.
One room was full of paper for some reason. Tons of it, shredded and lining the walls. One room had lots of ballet shoes hanging from the ceiling. As you do.
In another room was a strange man who I think was supposed to be an old time actor. He sat there looking at roses in front of a mirror. Which is what actors do apparently. The freaks. On a similar theme, another room had a lady in it who changed poses while wearing a white dress that had what I think was supposed to be blood around the hem. It was bizarre but it looked good in a photo. As you can see.
There were more rooms with videos and the like going on. Our friend's room was pretty cool. You stand in front of a large screen and thanks to some computer jiggery pokery the screen interacts with you. For example, the lady on the screen beckons someone forward while holding up a dress. A real person then steps forward and they can see themselves on the screen wearing the dress. There was more to it than that obviously but I'm trying to keep my descriptions quick. Here is our friend Francesco watching a clown in the room:
In addition to all these rooms were open spaces that held performances and sold food. Obviously the food wasn't that authentic as there was some and it wasn't rationed. The performances varied from dances to acrobatics to music and were all really well done. One of the highlights was a very limber lady hanging from the ceiling by two lengths of cloth. The music was very tuneful too. There were a lot of actors wandering about and when they weren't on stage they acted out random scenes among the audience. For example, we saw two guys dressed in 'old school' labourers outfits – trousers and vests – being shouted at for being late with the luggage they were carrying. The luggage was 'old school' too.
Finally, there were the inevitable screenings of old movies. These vary each event and set the theme for the whole evening. One Secret Cinema event was Lawrence of Arabia and was held in huge tents with kebabs and belly dancers. On our particular night it was the movie 'Red Shoes'. You know, the one from the 40s.
All in all, it was a superb evening. It changes each time and due to its popularity it rapidly becoming less of a secret. I look forward to future events like this especially if they are Scifi or porn related. That would be a cool but probably a different type of evening. Scifi porn!
I will end with another picture of some random people and then a video of the event that someone kindly created. Thank you Sophie for all the pics.
It turns out the 40s were cool. Apart from the first half. Pip pip stout fellows.
http://www.secretcinema.org/