Well, I'm back. I apologize for not writing recently but I have been on a minor European tour. First off, I've been to Bruges. In Belgium. Like the feckin' movie. It was a lovely place and is one of the most perfectly preserved medieval cities in Belgium. It's full of cobbled streets, cafes, statues, old buildings, horse-drawn carriages, chocolates and tourists. Plus bars and beer.
We then went to Ghent, which is pretty similar except much larger and more exciting and less twee. I love Ghent.
Then we are the first people I have ever met to go to Luxembourg. It was about as exciting as you'd imagine. Which leaves it up to you.
Then finally, Brussels. The heart of the EU. The place where the smoking ban originated and rankings placing Britain as the most binge-drinker filled place in Europe. It is fall of bars where you can smoke and drink beer that is 10% alcohol. Why are they able to get it right?
I shall write about the trip in more detail very soon on this very site. I might even start a new tab. While on this minor excursion I also read the 6th book in the very inaccurately named 'Hitch Hiker's Guide to the Galaxy' trilogy. It is called 'And Another Thing' by Eoin Colfer and is damned enjoyable. Different from Douglas Adams' style but I liked it.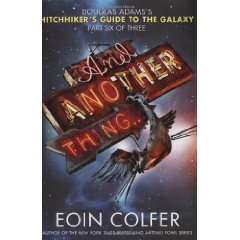 There will be more on all the above in lots more detail very soon. I just thought I'd update the site in case anyone thought the website, or myself, had come to a halt. We are both in fine fettle – apart from the fact that it is now 6am and I'm back at work trying to aid my ailing bank balance after a European trip. Other than that, fine bloody fettle!