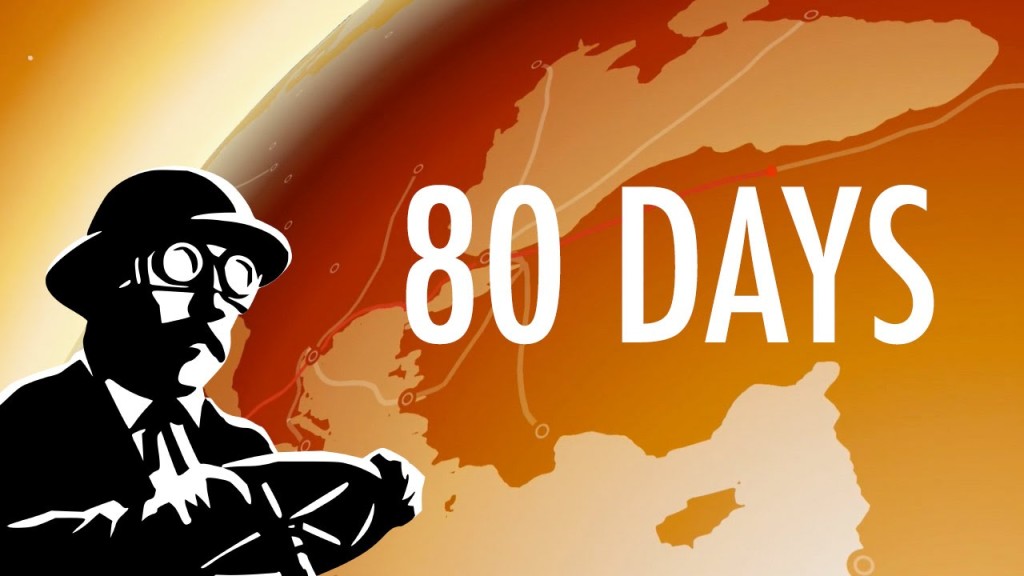 Do you have a phone or tablet and an ounce of adventure in your soul? If so, you should buy the game 80 Days as it is brilliant. It is basically a superbly written text adventure based on Jules Verne's Around the World in 80 Days. The writer, Meg Jayanth, is deservedly up for a Writer's Guild Award for it and quite rightly so. The game's tagline: The Year is 1872. Welcome to the future.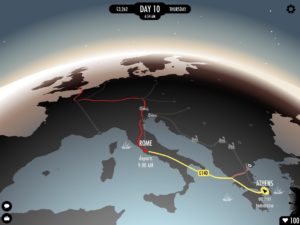 As you have probably guessed, the idea is to circumnavigate the globe in 80 Days. You are Passepartout and your job is to pack and find transport for the unflappable Phileas Fogg in an alternate history that is incredibly steampunk. At each stage you find yourself in strange adventures and on bizarre but awesome modes of travel like giant metal mechanical horses or colossal metal flying birds. Every route you take and every decision made can alter everything that follows. The game makers estimate that on each circumnavigation attempt you will probably see about 3% of the total game, so its replayability is superb.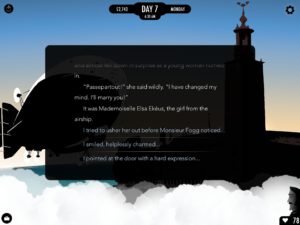 The adventures you have are varied and frequently brilliant fun. They also adapt in line with what you are doing. For example, I bought some Katana swords in Hawaii thinking that I'd get a good price for them in San Francisco. But just after the trip began the chief engineer of our vessel was found murdered with my swords lying next to her as the murder weapon. I then had the remainder of the trip to interview all the suspects and find the murderer before we hit land. If I hadn't bought the swords, none of that would have happened. Another adventure found me riding through India on a giant metal elephant, prisoner of a Kali death cult led by a beautiful princess. On yet another I had to break out a rebel from prison and spirit him to Shanghai. This all happened on just one trip.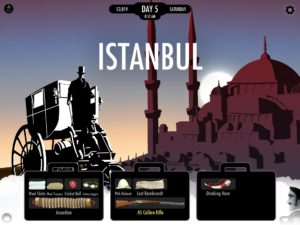 I can't recommend 80 days enough. It recaptures the wonder and adventure of the original book and is the best text adventure I have ever played. It is available on all mobile devices and I suggest you buy it now. In case you want more information, take a look at the publisher inkle studio's website. (There are also pretty pictures.)
Here is a trailer: